Azure sky, robin's egg blue: Vivid shades of turquoise define the color that's named after this gem.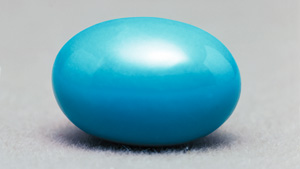 Turquoise is found in only a few places on earth: dry and barren regions where acidic, copper-rich groundwater seeps downward and reacts with minerals that contain phosphorus and aluminum. The result of this sedimentary process is a porous, semitranslucent to opaque compound of hydrated copper and aluminum phosphate
BIRTHSTONES & ANNIVERSARIES
Turquoise is the traditional birthstone for the month of December and the gem of the 11th anniversary.
4,000 BC
Turquoise buried in Ancient Egyptian tombs is among the world's oldest jewelry.
---
MEFKAT
Ancient Egyptians called turquoise "mefkat," which also means "joy" and "delight."
---
1519
Montezuma, thinking Cortes was Quetzalcoatl, gave him the god's favorite gem: turquoise.
---
FACTS
Mineral: Turquoise

Chemistry: CuAl6(PO4)4 (OH)8.5H2O

Color: Blue to green

Refractive Index: 1.610 to 1.650

Birefringence: Not detectable

Specific Gravity: 2.76 (+0.14, -0.36)

Mohs Hardness: 5 to 6
QUALITY FACTORS
Turquoise is judged on its color, texture, and the absence of matrix.
COLOR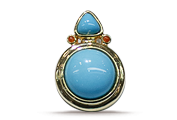 The even blue color of this cabochon would be called Persian blue in the trade.
CLARITY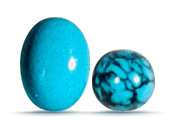 These free-form turquoise cabochons show a typical matrix pattern.
CUT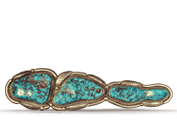 Although turquoise is usually cut into beads and cabochons, it can also be carved.
CARAT WEIGHT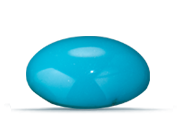 Cutters work around large areas of matrix to yield pieces of evenly colored turquoise.