Sunstone's phenomenal varieties show a distinct and lively glitter called aventurescence.
ABOUT SUNSTONE
Sunstone is a member of the feldspar group. Both the orthoclase and the plagioclase feldspar species boast a sunstone variety. Other feldspar group gems include moonstone, non-phenomenal orthoclase, phenomenal and non-phenomenal labradorite, and amazonite. Sunstone from Oregon is gaining attention as a natural and untreated product of the United States.
FELDSPAR
Sunstone is a member of the feldspar group of minerals.
---
AVENTURESCENCE
Sunstone can have a sparkly, metallic-looking luster caused by flat, reflective inclusions.
---
OREGON
Oregon sunstone is a transparent feldspar with glittery copper inclusions.
---
FACTS
Mineral: Feldspar

Chemical composition:

Orthoclase – KAlSi3O8

Oligoclase and labradorite – solid solution between NaAlSi3O8 and CaAl2Si2O8

Color: Yellow, green, red, red-brown, colorless

Refractive Index:

Orthoclase sunstone – 1.518 to 1.526

Oligoclase sunstone – 1.537 to 1.547

Labradorite sunstone – 1.559 to 1.568

Birefringence:

Orthoclase – 0.005 to 0.008

Oligoclase and labradorite – 0.007 to 0.010

Specific gravity:

Orthoclase – 2.58

Oligoclase – 2.65

Labradorite – 2.70

Mohs hardness: 6.0 – 7.2
QUALITY FACTORS
The following factors combine to determine a sunstone's value.
COLOR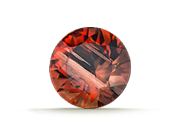 The most in-demand sunstone colors are deep red – like this gem – deep green, and intense bicolors.
CLARITY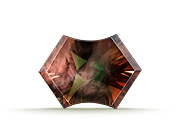 Small inclusions provide a reddish or golden sheen; larger inclusions create glittering reflections.
CUT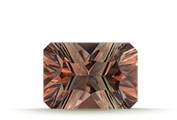 Creative cuts and calibrated gems alike are designed to highlight the gem's glowing colors.
CARAT WEIGHT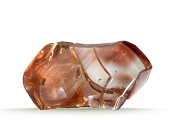 Sunstone is available in a range of sizes, but large carved gems like this Oregon beauty are rare.