SPINEL The Black Prince's Ruby. The Timur Ruby. For centuries, spinel, the great imposter, masqueraded as ruby in Europe's crown jewels.
ABOUT SPINEL
Until recently, spinel was an underappreciated gem with little consumer recognition. Increasing demand for ruby alternatives rekindled appreciation for spinel's rich red color and history. In ancient times, southeast Asia's mines yielded exceptional large spinel crystals, which became the treasured property of kings and emperors, often passing through many hands as spoils of war.
BIRTHSTONES & ANNIVERSARIES
Spinel was recently added as an August birthstone, sharing this month with peridot and sardonyx. It has long been mistaken for ruby by emperors and monarchs. Many of the famous "rubies" of history were actually spinels.
NAT THWE
Spinel crystals are so perfect, in Burma they are said to be nat thwe or "polished by the spirits."
BLACK PRINCE
The famous 14th century Black Prince's Ruby in the British Imperial Crown is actually a red spinel.
1783
Mineralogist Jean Baptiste Louis Rome de Lisle identifies spinel as a different mineral than ruby.
FACTS
Mineral: spinel

Chemistry: MgAl2O4

Color: red, orange, pink, purple, blue, black

Refractive index: 1.718

Birefringence: none

Specific gravity: 3.60

Mohs Hardness: 8
QUALITY FACTORS
An assessment of the following characteristics determines spinel's value..
COLOR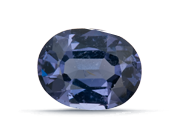 The most valued spinel colors are bright red, cobalt blue, and vivid pink and orange. Pale lavender is more affordable
CLARITY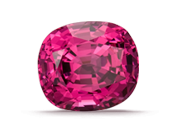 Spinel with no visible inclusions is preferred. The more prominent the inclusions, the less valuable the gem.
CUT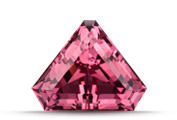 Spinel is most often cut in cushion and oval shapes. When properly proportioned it has excellent brilliance.
CARAT WEIGHT
Fine-color spinel is rare above five carats. Most fine-quality rough is cut to non-standard sizes to save weight.