AMETRINE
AMETRINE This transparent quartz has colors of both amethyst and citrine, and is called ametrine or amethyst-citrine.
OVERVIEW
NO PLACE ELSE
There is only one commercial source for ametrine: the Anahi mine in Bolivia.
NATURE'S GIFT
The presence of amethyst and citrine colors in a quartz crystal is a rare gift of nature.
CUTTER'S CHOICE
Ametrine's colors blend, combine, and contrast uniquely in each gem.
FACTS
Mineral: Quartz
Chemical composition: SiO2
Color: Bicolor orange/yellow and purple
Refractive index: 1.544 to 1.553
Specific gravity: 2.66 (+0.03/-0.02)

Mohs hardness: 7
QUALITY FACTORS
The following factors combine to determine ametrine's value.
COLOR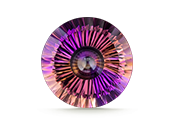 Fine ametrines show beautiful contrast between their orange and purple shades.
CLARITY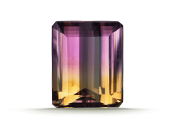 Faceted ametrine generally has no eye-visible inclusions.


CUT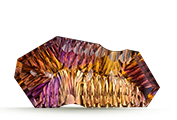 Unusual cutting styles add drama to ametrine's unique color combination.
CARAT WEIGHT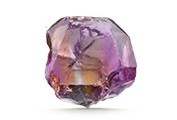 A wide range of sizes is available. Large material is popular with gem carvers.